Electron Beam Evaporators
The new SmartBeam evaporator series is suitable for optical coating processes as well as for metalization at high coating rates. An efficient cooling system of the crucible and the deflection unit guarantees reliable operation in demanding production processes.
All multi hearth evaporators produce a small beam diameter of 3 mm with minimal distortion over the crucible surface.
The crucible drive is carried out by means of a DC motor with built-in encoder and absolute position marking.
In the EB M series, the motor and crucible drive are on the atmosphere side and are flanged axially to the crucible shaft.
In the EB S series, the motor and crucible drive are encapsulated in the vacuum. This allows free positioning of the evaporator within the coating chamber.
Features & Benefits
Magnet system with low inductivity and effective cooling
Small beam diameter independant from its position on the crucible
DC motor on atmosphere side with integrated encoder und absolute positioning
Support of high Sweep frequencies
Excellent control of the beam for opt. Materials
Reliable crucible positioning with stall protection
Easy filament installation and long filament lifetime
Options
Evaporator positioning in chamber without restrictrions (EB S-series)
Magnetic crucible cover plate for reduced secondary electron bombardment towards substrate
Customer specified pocket geometry
Ferrofluid sealed rotary feedthrough for crucible rotation (only EBM-series); allows base pressure down to 1E-9 mBar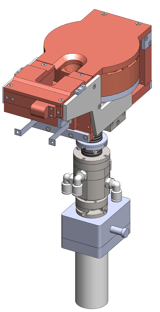 EB M-8 II with motor und crucible drive on atmosphere side
EB S-8 II with motor und crucible drive on vacuum side
EB M-4x4
EB M-6 II
EB S-6 II
EB M-8 II
EB S-8 II
EB M-10 II
EB S-10 II
Max. operating power
4 kW
6 kW
8 kW
10 kW
High voltage range
4 - 10 kV
Magnet deflection current (x/y)
± 3 A
Beam diameter
3 mm, with minimal distortion on crucible surface
Crucible drive
DC motor with built-in encoder and absolute position marking
EBM-x: Motor and positioning at atmosphere axially flanged to crucible shaft
EBS-x: motor and positioning encapsulated in vacuum; Evaporator freely positionable
Standard crucible volumes
4 x 4 cm³
4 x 8 cm³
6 x 6 cm³
8 x 4 cm³
4 x 40 cm³
6 x 20 cm³
8 x 15 cm³
4 x 60 cm³
6 x 40 cm³
8 x 20 cm³
Dimensions vacuum
(H x B x L in mm) :
120 x 87 x 206
130 x 112 x 250
164 x 112 x 282
130 x 150 x 304
164 x 150 x 304
130 x 190 x 346
164 x 190 x 346
| | |
| --- | --- |
| Magnet current feedthrough | High voltage feedthrough |
| LiftOff Filament Block | Crucible drive |