BeamTec offers components of thin film measurement technology from various leading manufacturers. The products range from layer thickness controllers, thinfilm monitors and quartzes to sensor heads. In addition to supplying standard products, BeamTec also supports its customers in designing components according to individual customer requirements and needs.
Our own products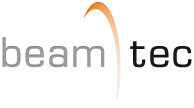 Together with EDF Electronics, we have developed our own products to determine the thickness of the layer during the coating process.
With our layer thickness controllers and monitors, transducers and oscillators, we offer a complete range of thin film measurement technology products from our own home.
Our products are a cheap, easy-to-use alternative, without sacrificing precision and functionality.

McVac is a leader in the production of mechanical components of thin-film measurement technology. These quartz crystal sensors, feedthroughs, cables and related products are widely used in the coating industry. McVac also manufactures high and ultra high vacuum components such as fittings, vacuum flanges and electrical, gas and water feedthroughs. The mechanical processing, TIG welding work of stainless steel and aluminium as well as the leak test using helium mass spectrometers is carried out in McVac's state-of-the-art operating facilities.

Colnatec manufactures electronic transducers and quartzes for thin-film measurement technology. These are used, for example, in a wide variety of fields such as solar cell production (CIGS), mobile displays (OLED) or optical coating technology (PVD). With the new RC™ quartzes, ultra-thin layers can also be produced reproducibly.