Spare Parts & Consumables
BeamTec provides a wide selection of crucible liners for electron beam sources. Crucible liners are used to increase evaporation rates by reducing heat transfer between the evaporant material and the water-cooled crucible. They also allow particulate free pocket replenishment and eliminate the risk of contamination when one material replaces another in a given pocket.
Liners are available in following materials:
Vitreous Carbon, C
Tantalum, Ta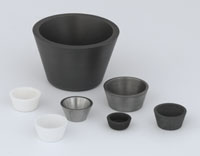 An extensive selection can be found in our online shop.
We can provide crucible liners in any shape to fit in evaporators of various manufacturers like e.g. TELEMARK, TEMESCAL, FERROTEC, LEYBOLD or BALZERS. Please contact us about your specific requirements or evaporator.